If you would like to sign up, please check the schedule and come about 15 minutes early to any class you like. Please do not sign up online.
Besides Bikram Yoga, we also have HIIT 95, Inferno Hot Pilates, Yin Yoga, Aligned Flow, Kundalini Yoga, Restorative Yoga, Hot Vinyasa, Mild and Modified, Belly Dancing, Qi Gong, Guided Meditation and Yoga Nidra! All classes are included with unlimited memberships.
Sprouts Shopping Center, 859 West Foothill Blvd. Claremont 91711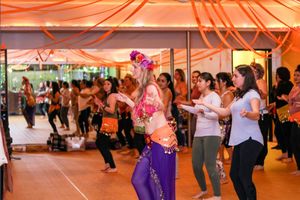 Dance Day!
A fun day of discovering Burlesque, Hip Hop, Tribal Belly Dance, Egyptian Belly Dance, Hula Hoop, Hula, Ecstatic Dance, Bollywood, etc.!
Saturday December 7 10:00
Variety of dance classes all day long. $40 early bird admission for the whole day or $5 per class
10:00-10:30 Hula with Roxanne
10:45-11:15 Egyptian Belly Dance with Mandy
11:30-12:00 Hula Hoop with Angel
12:15-12:45 Bollywood with Mandy
1:00-1:30 Hip Hop with Nicole
1:45-2:15 Persian Dance with Nadia
2:30-3:00 Burlesque with Nicole
3:15-3:45 Ecstatic Dance with Jeye
4:00-4:30 Bachata with Evie
4:45 -5:15 Tribal Belly Dance with Jeye
5:30-6:00 Salsa with Evie
6:15-6:45 Pop Lock with Marquise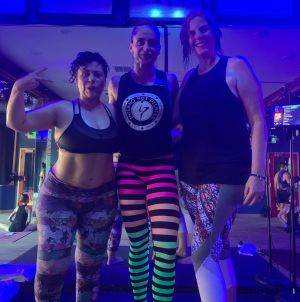 New class: Inferno Hot Pilates!
"Inferno Hot Pilates com­bines car­dio and mus­cle ton­ing in a heated room. The high inten­sity inter­val train­ing keeps your heart rate up, help­ing you burn fat. The Pilates prin­ci­ples sculpt your body, cre­at­ing long lean mus­cle mass. The heat loosens up the mus­cles quickly, and the humid­ity makes you sweat " Hot Pilates Las Vegas
Mondays 3:00
Tuesdays and Thursdays 5:15 AM
Saturdays 12:00
If you are not receiving emails from us and would like to, please sign up below.