We are open!
All of our classes are inside now. You can come enjoy warm sweaty classes you remember in the Hot Room or check out the breezy Loft, with our brand new opening windows!
Showers and rentals are back, but all of our other precautionary guardrails and Covid protocols will stay in place. We will keep the option of the private classes and of course Zoom.
To join a class, just go to our schedule and hit sign up! Hope to see you all soon!
For Zoom classes: Sign up for the class and make sure to accept notifications. After you sign up you will receive a link by text and email. Go to the link 15 minutes before class and the teacher will be there.
If you are interested in the private classes just ask one of us and we will sign you up.

Sound Bath
"Bathe" in the healing vibrations of gongs, bowls and a variety of other instruments. The power of the sound current brings about balance, relaxation, and a sense of well-being to your mind, body, and spirit.
Mats and blankets are provided.
Saturday, October 2 6:30 pm
in the Loft with Riki $30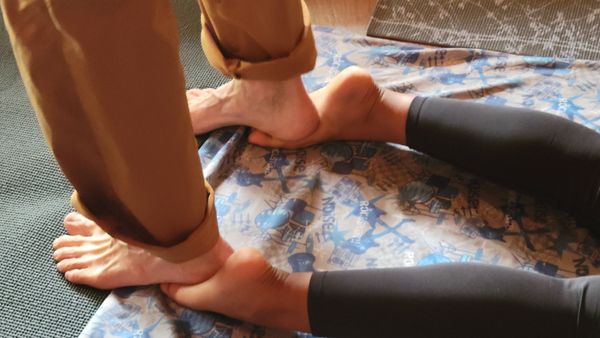 Thai Yoga & Traditional Thai MassageThe Fundamentals
Please join us for another fantastic two day certification training!
Saturday and Sunday, October 16th and 17th 9:00 am to 6 pm
in the Loft with Ilaria
$300 early bird before September 26th
This class is open to all persons and students from any background or level of training. The practice of SomaVeda® Thai Yoga is a beautiful complement to any wellness path as well as a fun skill to practice simply as a hobby or as an act of kindness to friends and family.
Thai Yoga and massage is founded on the ancient Indian principles of Ayurveda "The Science of Life", it promotes health through balanced and conscious living. A basic introduction to SomaVeda® Thai Yoga, this intensive is suitable for new students or practitioners seeking an alternative modality from a spiritual perspective. SomaVeda® Thai Yoga and traditional, indigenous massage (a form of Chirothesia) incorporates elements of mindfulness, gentle rocking, deep stretching and rhythmic compression to create a singular healing experience. Expect to gain tremendous insight into your daily practice.
This class *is intensive;* expect to move a lot! By virtue of learning to practice, you may experience processes of detox and conditioning. It is incredibly powerful and uplifting and, at times, challenging to a new student's body.
What do we teach in this course?
The course covers the basic concepts of hands on healing in a balanced session using SomaVeda® Thai Yoga. This Yoga and traditional, indigenous medicine derived system allows the practitioner or teacher to gain a three dimensional perspective on facilitating and participating in another person's healing process.
* During this course the student establishes contact with a genuine lineage and learns how to facilitate the healing energy of the ancient masters through the practice of Puja or healing affirmations.
* Understand the basic elements and theory of Classical Thai & Classical Indian Ayurveda anatomy and physiology.
* Understand Basic Theory: Seven Chakras, Ten Sen or Prana Nadis, Wind Gates, Asana or therapeutic postures, Meridians and Accupoints, Understand the concept of body work as a meditation, The Five Traditional Treatment Attitudes of the body, Know and understand indications and contraindications for specific postures, major clinical applications for use in clinical or professional treatment environment.
* Understand the benefits and contraindications as well as clinical medical applications of SomaVeda® Thai Yoga massage.
* Understand and be able to perform the basic protocol and principles of SomaVeda® BET/ Bio-tapping technique for balancing and clearing negative emotion.
* After completing this course, students will:-You earn a certificate of completion in 18 hours of SomaVeda® Thai Yoga Level 1: The Fundamentals of Thai Yoga.
* The student can perform a complete 19 Asana beginner Vinyasa or flow with a partner. The student will be able to perform a one hour SomaVeda® Thai Yoga Therapy session (Thai Yoga Massage).
What is SomaVeda?
SomaVeda™ Thai Yoga Integrative Therapy is a comprehensive system of holistic healing comprised of several core practices, including Traditional Thai Yoga, Thai Ayurveda, and EFT-BET Bio Tapping (among many other practices!).
This training is a sister program to the SomaVeda® Thai Yoga 164HR Certification Course and will provide Certification in Levels 1(Fundamentals of SomaVeda® Thai Yoga) of the full Somaveda® 164HR Program.Visit www.thaiyogacenter.com for the core program details.
Payment Options
Book now! Space is limited to 10 people for each class.
***EARLY BIRD REGISTRATION ONLY $300*** IF YOU PAY IN FULL BY September 26th
$400 if paid in full from July 23rd to August 20th, 2021
Tuition includes textbook, Certification and Free Membership
Payment can be made with
Venmo @MayUBeWell
PayPal @ mayubewell.info@gmail.com
Zelle @ mayubewell.info@gmail.com
or sign up at hotyogaclaremont.com
Please, when make a payment specify dates and location.
Call Ilaria at 909.670.9951 for any question or need assistance to make a payment.
What to bring
A Pen or pencil, a yoga mat if you have it, a pillow with pillowcase and lots of water! Please dress comfortably, no jewelry, and for women sports bras are preferred in order to facilitated energy flow throughout the body while giving and receiving Thai work.
See you all in class!!

Never fear Zoomers! We will continue to offer a full Zoom schedule indefinitely, and most of these studio classes will be available on Zoom as well.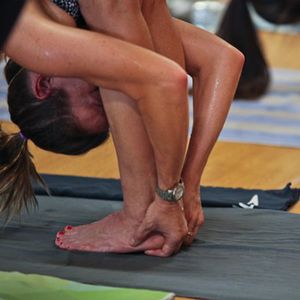 Bikram Yoga
A magical series of 26 postures and 2 breathing exercises that will change your life. Designed for first timers, but this class is forever challenging. It's a full body therapeutic healing workout that mostly calms your brain.
Bikram yoga offers a wide variety of benefits for both your mind and body. It can help you burn calories, build bone density, boost your cardiovascular fitness, and improve your flexibility. It may also help ease depression and reduce stress.
Saturday 8, 10 and 4:30
Monday 9, 4:30 and 6:30
Tuesday 6:30, 9, and 4:30
Wednesday 9:00 and 4:30
Thursday 6:30, 9, and 4:30
Friday 6:30 am and 4:30 pm
Sunday 8, 10 and 4:30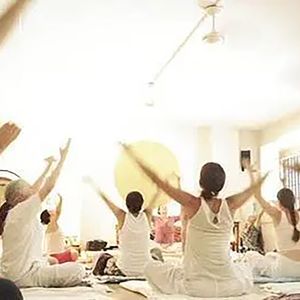 Kundalini and Sound Meditation
Kundalini Yoga precisely and consciously combines breath, mudra (hand signals to the brain), eye-focus, mantra (sound signals to the brain), body locks, and postures to balance the glandular system, strengthen the nervous system, expand lung capacity, and purify the blood. It brings balance to the body, mind, and soul.
Each class has a unique purpose delivered by way of a "Kriya", a set of yoga poses combined with the purpose of bringing about a desired outcome. At the same time, each class has recurring elements:
a set of warm up exercises,
the Kriya
breath work
a meditation
and a period of deep relaxation accompanied by gongs, singing bowls or relaxing music.
Every class is different, every experience unique. And make no mistake about it: Every class is a workout!
Sunday 10:00
in the Loft with Riki
Vinyasa
Vinyasa is a dynamic style of Hatha yoga which joins physical postures, or asanas, with inhales and exhales, creating a steady internal rhythm for the practice.
Thursday 1:00
Monday 3:00 with Alan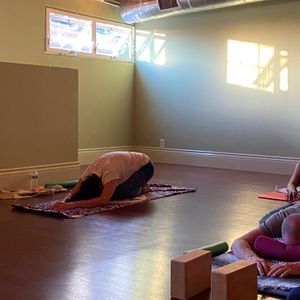 Yin Yoga
A Yin yoga class consists of a series of long-held, passive floor poses that mainly work the lower part of the body - the hips, pelvis, inner thighs, lower spine. These areas are especially rich in connective tissues. The poses are held for up to five minutes, sometimes longer.
Sunday 12:00
Thursday 6:30 pm with Neil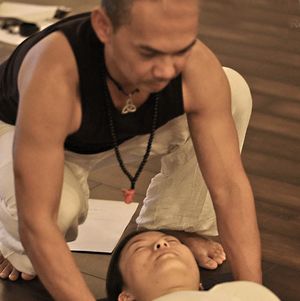 Restorative Dessert
Restorative yoga is a practice that is all about slowing down and opening your body through passive stretching. During the long holds of restorative yoga, however, your muscles are allowed to relax deeply. It's a unique feeling because props, rather than your muscles, are used to support your body.
Wednesday 4:30 pm with Alan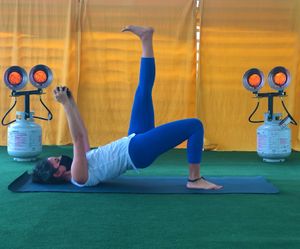 Hot Pilates
Cre­ates long lean mus­cle mass, burns fat, and increases fit­ness lev­els. It cre­ates a stronger core, improves cir­cu­la­tion, and increases flex­i­bil­ity. It is per­formed on a yoga mat mak­ing it zero impact, pro­tect­ing your joints and mus­cles from the pound­ing of other exer­cises like run­ning and jumping.
Sunday 12:00
Monday 3:00
Tuesday 6:30pm
Wednesday 11:00 am
Thursday 3:00
Friday 9:00 am
Saturday 12:00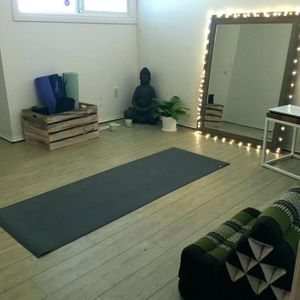 Your Home Studio for Zooming
To create the perfect Bikram yoga environment for your home yoga studio, the goal is to get close to 105 degrees/40% humidity. If you have more humidity you can have less heat. Or you can do the class in the AC! That works too.
For authentic HIIT Pilates and Inferno Hot Pilates the room should be 95 degrees.
If you want to buy some things to crank up the heat, we've discovered these items are the best. This space heater doesn't turn off automatically:
This humidifier pumps out lots of HOT steam! Just use distilled water in it so it doesn't leave white film on your mirrors:
This humidifier pumps out lots of HOT steam! Just use distilled water in it so it doesn't leave white film on your mirrors:
If you are not receiving emails from us and would like to, please sign up below.
In consideration for others, please wear a mask in the studio. Bring a comfortable mask, which will be mandatory for some breathing exercises, but optional during class.
We will issue you a key tag your first class. After that you can scan it yourself at the bookcase to sign in for classes.
Input your credit card info into Mindbody if you would like to for touch free buying.
Make sure you have at least 8 feet between you and others. We don't have stickers on the floor, but there is more than enough extra space in the room to be separate from others.
Thank you all for your understanding.
Sprouts Shopping Center, 859 West Foothill Blvd. Claremont 91711